At ukiteboard we teach and coach kiteboarding (a.k.a. kitesurfing). If you're not familiar with kiteboarding (aka kitesurfing) or snowkiting, it's a sport where you speed over water or snow using a kite to harness the power of the wind and a board as a floatation device and in the case of snowkiting, you'll be riding your skiis or snowboard. Summer or winter, it's incredibly fun!
Our Headquarters is in Keswick, Ontario right at the southern-most point of Lake Simcoe at Cook's Bay. We're a mobile school and go where the wind is! There are a number of excellent spots in Ontario — whether it's Oliphant, Cherry Beach and Bluffer Beach in Toronto, Lagoon City, 9th Concession on Lake Simcoe or Wasaga Beach, Allenwood Beach and Gilford we're watching the wind and weather conditions and we're ready to go!
Not only do we teach and coach in Ontario, we'll go anywhere in the world there is wind! Every year in the first 2 weeks of May we are in North Carolina in the Outer Banks/Cape Hatteras – the Mecca of kiteboarding in North America. In November, we're down South either in Cuba, Margarita Island, Mexico or Florida. And next year we're looking at going to the Island of Kos in Greece. At the moment we don't have any trip packages but when we do, we'll have it on this website and let you know about it in an email if you sign up to be on our list.
Unique to ukiteboard kiteboarding lessons is our JET-SKI and 2-way RADIO SUPPORT
When a student first gets up on the board they Jetski Support will only be able to ride downwind at first. The problem with that is that the student will ride downwind fast. This will require a long and physical intense walk back to the beach where the downwind ride first started. This is no problem with our teaching system. Gerhard at ukiteboard.com will follow you on a Jet-ski providing instruction as you go with a 2-way radio mounted on the student's helmet — he also takes videos from you kiteboarding. Later, we will use these videos that he uploads on our YouTube Channel as a teaching tool for you. At the same time you have a great video for yourself to see your progress while learning how to kiteboard – and of course you can share with your friends and family. When it's time to go back upwind the student is usually very tired. No problem!
We now have two ways to get you back upwind fast.
Option 1) The Student will land the kite and wrap up the lines, then will sit on the back of the Jet-ski holding the kite and Gerhard will bring his student back upwind in just a couple of minutes. The Student can rest and relax while on the Jet-Ski. Soon the student will start to practice getting on the board again.
Option 2) Gerhard will teach the student how to use and ride a Jet-ski. The student then will ride the Jet-ski back upwind while Gerhard will ride the kiteboard back upwind. While the student is riding the Jet-ski, he or she will have the opportunity to watch Gerhard fly the kite upwind to see how it's done. Not only is riding a Jet-ski a lot of fun, it will also tremendously maximize his/her lesson time by avoiding wasting time and energy on the long walk back upwind.
About our kiteboard & snowkite instructors
Gerhard Marsch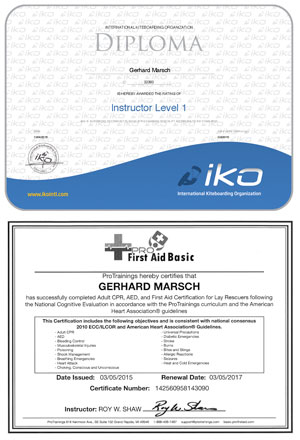 Gerhard is a certified Instructor and is been teaching kiteboarding for the past 6 months. Gerhard's passion for the sport reflects in the way he teaches the sport — he's even passionate about safety!
His unique style of teaching (every student is different) he adopts to any level of skill and teaching speed required by the individual student. This allows the student to learn the sport within his or her own abilities and the speed they're most comfortable.